Wall's Funny Feet Ice Creams are back from the 80's! - Review
I've been on the lookout for Wall's Funny Feet Ice Creams for a while now. The Grocer ran a competition to "Bring back a brand" earlier in the year which included nostalgic products such as Trio biscuits, Nestlé Toffo, Cabana, Texan, Cresta lemonade, Spangles sweets, Fish & Chips crisps and Funny Feet. Funny Feet were the most popular, receiving almost 6,500 votes and so Wall's have decided to relaunch the ice creams in the UK. See the article
HERE
with The Grocer which explains how this all came about. There's also a Youtube video about the campaign here:
According to Wall's they will be marketed towards children and their parents who remember them from the 80's, and 10p from every purchase will be donated to Save The Children with the "Share a Smile, Help a Child" campaign.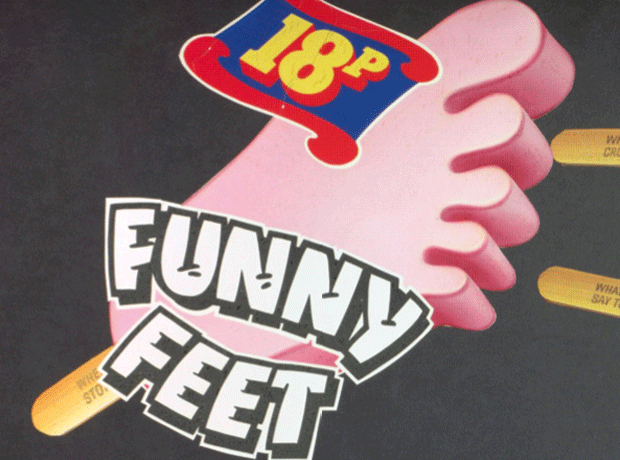 80's advert for Funny Feet
Considering their apparent popularity in the 80's, and the fact that Wall's saw fit to bring them back again I was very curious to see what all the fuss is about, so when I heard they were available at Asda I dutifully made my way there to purchase a pack. I paid £2 for a box of 4 ice creams, which came to 160g in weight.
Opening the pack I was surprised to discover just how
small
the ice creams were! It made me wonder if they were this small in the 80's...?
Opening the wrapper I was met with a pale pink coloured foot-shaped ice cream. I cut into one just so you can see what it looks like inside...which is the same as on the outside!:
Taste-wise the ice cream was pleasant enough, but a little one-dimensional and without a particularly strong or distinctive strawberry flavour. It was creamy though and made for a nice snack. Looking at the ingredients I noticed it contains coconut oil, which gets a thumbs up from me since coconut oil is healthier than other oils often used in confectionery. It's a trend I'm noticing a lot more of and one that I hope continues!
Overall, these Wall's Funny Feet are pleasant enough ice creams, but aside from the unique shape I don't really see their appeal - must be a nostalgia thing! I'm not sure if they were this small in the 80's but they're a bit dinky as far as ice creams go nowadays. On that note I'm sure they'll be very suitable for young children.
Price
: £2 at Asda. £2.50 at Sainsbury's or 2 boxes for £3.
Suitable for vegetarians?
: Doesn't state.
Allergy Information
: Contains milk & whey.
Nutrition (per ice cream)
: 70 Calories, 3g Fat, 8g Carbs (8g Sugars).
RATING: 6.5 out of 10.
Were you a fan of Funny Feet in the 80's? What do you think of the relaunched version? Let me know in the comments!
For other campaigns to bring back retro products, please check out my friend
Bring Back Banjo Chocolate Bar's Facebook Campaign
...Banjo was a chocolate and peanut wafer bar made by Mars Foods in the 80's and definitely sounds worthy of being brought back! You can sign the petition for its return
HERE
.