Terry's Chocolate Orange Minis Review (plus some nostalgia!)
When I saw these Terry's Chocolate Orange Minis in Sainsbury's I wasn't all that excited to be honest. I like Terry's Chocolate Orange, don't get me wrong - I see it as a "Christmas staple", one of those products you just
have
to have in the house every Christmas whether you like it or not. Over the years though I feel like Chocolate Orange has gradually gotten sweeter and sweeter in taste, to the point where it's now just a sugar-bomb. Either that or my tastebuds have evolved...I'm not sure?!
So when I saw this Minis version I was a bit "meh", but since they were on a £1 introductory offer I thought I'd at least try some in the name of snacks research! I have to say I do like the packaging - it's very vibrant and has a matte feel to it, similar to Cadbury's bagged range (which makes sense since both Terry's and Cadbury's are owned by Mondelez). It's also reclosable so you can save some for later...not that many people will do that of course!
Opening the pack I was met with some very scuffed-looking chocolate orange segments, which didn't look very appetizing.
They smelled pretty good though, so I tried to overlook their appearance and popped one in my mouth. They tasted nice - chocolatey, orangey and creamy, as you would expect from Chocolate Orange. After eating a few pieces I suddenly found myself popping them in my mouth one after another...they were somehow incredibly moreish in mini segment form! Extremely sweet, of course, but that still didn't stop me from demolishing most of the bag.
Overall, I have mixed feelings about these Chocolate Orange Minis. They're a tasty, moreish snack and a good way of making Chocolate Orange portable (plus they solve the problem of having to "whack and unwrap" a Chocolate Orange in public!) However the scuffed looking appearance is quite off-putting, even though it's probably inevitable for a bagged product like this. Plus the RRP is about £2 depending on where you buy these, which is a bit pricey when you can get a regular Chocolate Orange for around £1 in most supermarkets (Morrisons recently did them for 99p, and Tesco had them for just over £1). Maybe I'm being pedantic though...I'm sure many people will love these, and they certainly make a nice alternative to regular bagged chocolates.
It's not Terry's, it's mine!
Price
: Between £1.50 and £2 in most supermarkets.
Allergy Information
: Contains milk and soya. May contain nuts & wheat.
Suitable for vegetarians?
: Yes.
Nutrition (per quarter bag)
: 180 Calories, 9.7g Fat (5.9g Saturates), 20.5g Carbs.
RATING: 6.5 out of 10.
Have you tried Chocolate Orange Minis? Let me know in the comments! :)
In other Chocolate Orange nostalgia, who remembers the Minty Dark version of Chocolate Orange? It contained mint-flavoured dark chocolate rather than orange and was very tasty! Here's a pic: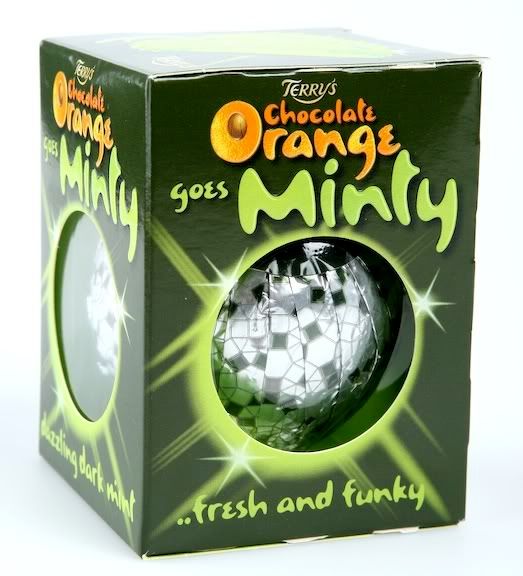 Also who can forget the many amusing Dawn French Chocolate Orange adverts from the 90's and beyond? Here's a few I found on youtube: